About me
"It ain't what they call you,
it's what you answer to"
W.C. Fields
"I am not afraid of storms
for I am learning how to sail my ship."
W. Louisa May Alcott
I am pleased that you've just opened my website. Welcome! Here is a wealth of information and examples about what I've done, what I'd still like to do. Feel free to open the menus and all the links and then open the links behind the links, so to speak. Take your time!
Still not enough? Do you really want to learn more about me, or do you want to know Who I am? Well, you've come to the right place.
As Lt. Col Frank Slade (Al Pacino) in the movie Scent of a Woman says "There are 2 kinds of people in this world, Charlie.
The first group is the people that face the music. The second group are those who run for cover."
Now, "Who am I ?" is an arresting question, because it is one of the most relevant questions humanity asks. Do I belong to Al Pacino's first or second group ? You could also say: "The question isn't who am I. The question is where am I." First of all I am here because I was born, it was my own personal "big bang" moment.
I am also here for a little thing called Freedom of Speech and of course because I am also a dutiful taxpayer. By asking yourself this question, you have started a journey. You will be scared and you will be excited. You will be lonely and you will find friendship. You will have fun and you will be sad.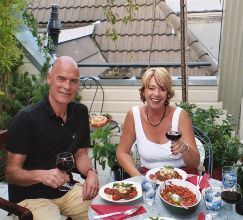 Let's start off with my name, because if I did not have a name, how could I identify myself? If I had no name, who would I be?
I am Cees Kloosterman and I was born in Dordrecht, the Netherlands in 1949 and a few years ago I moved back to my hometown. I live just near the "Grote Kerk" (the Big Church) in de old historic part of the city. I am married to my lovely wife Hélène and together we have 4 children and 6 grandchildren.
After college when I was 17 years old, I went to Leiden University to study Geology. I always wanted to do that, dreaming of searching for oil in far away places, But 17 turned out to be too young to withstand the seductions of student live! So after mostly partying for half a year, I quit my studies. This was of course a great disappointment for my parents, who always dreamed that their only son would graduate from university.
But after half year working all kind of jobs, I figured out that this was not the road to glory. So in September 1967 I enrolled in Medical school at the Erasmus University in Rotterdam to study medicine.
Well, 1 year older and a bit wiser, Medical school turned out to be quite interesting and I graduated and received my Medical Degree (M.D.) as a general practitioner in 1973. After a few months practicing, I went into the Dutch Army as a military doctor. After that time I had some family private problems in life which influenced my life and my medical career seriously.
But I struggled and survived, met my lovely Hélène, married her and together became (and still are) very happy. Later on I specialized in Social Medicine and Occupational Health and worked for quite a few years as a medical adviser in those areas, which gave me a lot more time for traveling and pursuing my hobby's.
In the sixties I was enthusiast baseball player in "The Hawks" in Dordrecht, I played second base for 2 years and then a few years as a catcher. I still love to watch the sport. But the last 30 years my favorite sport has been scuba diving. I was president for a few years of the scuba diving club OSCD in Dordrecht and I reached a 4****, CMAS / PADI Master Scubadiver level.
With my wife and diving buddy Hélène we traveled to diving destinations such as the Red Sea along the Israeli coast, Jordan and on the Egyptian side. We did a lot of diving in the Maldives, Mauritius, Thailand, Indonesia, Cuba, Bonaire and of course the Mediterranean and the North Sea. Traveling to far away countries is a thing we love to do best. We traveled through the middle East, Egypt, Zambia, Namibia, Zimbabwe, Israel, Jordan and to Asia, India, Nepal, Sri Lanka, Thailand, Malaysia, Indonesia and Sarawak, the hidden treasure of Borneo, China, Vietnam, USA, Mexico.
We came back a few times to Egypt en played golf around Caïro. We keep on traveling on a yearly basis to countries like Portugal, Spain, Italy, France and Turkey . We visit the USA, especially Californa on a regular basis, because my wifes siter Marion lives there. If you are interested in my travel experiences take a further look at my travel page. Other outdoor activities like hot air balloon flights fascinate us and we made flights in Palm Springs USA and across the Namib desert in Namibia. If you ever have a chance to make a flight, DO IT. You will never regret it.
We also love white water rafting and we made rafting trips in Nepal, Sri Lanka an last but not least the Zambezi river!! Try rafting rapids with names like the Washing machine, Commercial suicide, Stairway to heaven and Nr 11 the Overland Truck eater!!
On the less active front, I love music, am an avid reader, enjoy fine wines and I am (so they say) an excellent cook. A few years ago we both started playing golf and I am now a single-digit handicap player. Take a minute to look at some of my web pages with Our travels, Pleasures of the table!, Ballooning, Reading and books, Ringing the bells, Diving, and Flying a microlight.

I began webdesigning a few years ago as a hobby, but it turned out to become more than that. On 01-01-2010 I started my own Webdesign Company (CKWebdesign). Take a look at my portfolio, if you are interested.

I retired from my medical work on 01-01-2013, so I am now a Pensionado !
If you are interested in history then take a look at my Kloosterman family web page, which gives you information about the genealogy of the Kloosterman family from 1550 – 1975. I still like a lot the music from the sixties, so take a look at my favorite musical Top Eleven choices. If you would like some information and news from the Netherlands visit the Holland site.
So now you know a little more about me.
Who I am and maybe Where I am.
Regarding the remark of Lt. Col Frank Slade "There are 2 kinds of people in this world", what are my own thoughts on the subject".
Well, …. looking back to my childhood, I was shy in expressing myself and had problems mingling socially. So back then I was probably in Lt. Col Frank Slade second group of people, those who run for cover. It took me quite some time to throw away the chains of that past. But now I am not afraid of storms (or music, but remember everyone listens to another band) anymore, for I am learning to sail my ship.
So now I have arrived in Lt. Col Frank Slade first group of people, those who face the music
and what is more important: I enjoy it. And boy, does that feel good!!!
If you have any remarks or comments, please take a few seconds to fill in my guestbook, or send an Email.
Your comments are appreciated! Words inspire and create.
Heartfelt words rejuvenate!
Thank you for your visit, come again soon!
Cees